Special Mentions
This lovely girl called Sarah asked for food donations instead of birthday presents and saved her pocket money for Ash animals.She also made bracelets and sold them to make money for Ash. She has such a kind heart. The dog in the picture was adopted from ash 4 years ago too. On behalf all animals in Ash, Thank you so much Sarah ☀️ You are amazing ☀️
We'd like to say a thank you to these two ladies who recently took part in the 2016 mini marathon and instead of raising money they asked people to sponsor them in the form of food and treats for the animals in our care. Thanks so much ladies, much appreciated.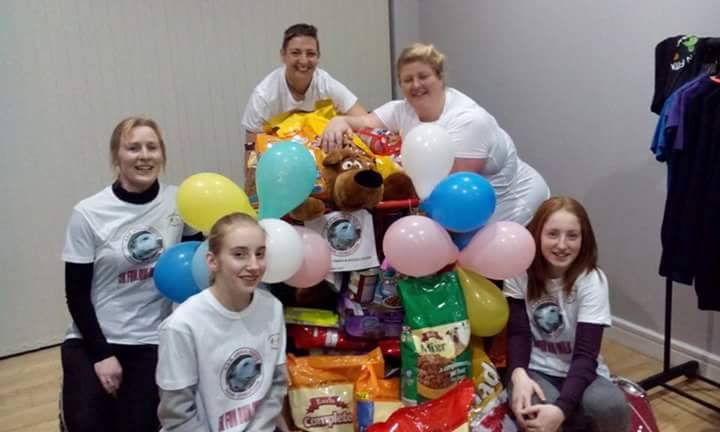 A huge thank you to the team in Fusion Fitness Carlow who organized a 5km run in December 2015 with all proceeds going to ASH!!   They raised an amazing €1,900 and collected a whole lotta food ! Thanks so much to everyone who participated and donated, it's so much appreciated.
A huge thank you to Kerry and the crew in View Hair and Beauty Rathnew co.Wicklow. They raised just over €600 for ASH in their 2015 fundraiser. Thanks so much to everyone that helped out and contributed. It's so much appreciated.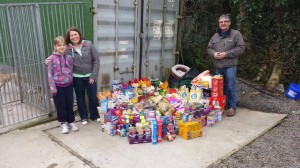 A huge thanks to Vanessa and her Dad who this week (April 2015) brought us this amazing donation of food. As you can imagine in ASH we go through a whole lot of food so we were so chuffed with your very generous donation. Thank you also to everyone who donated the food.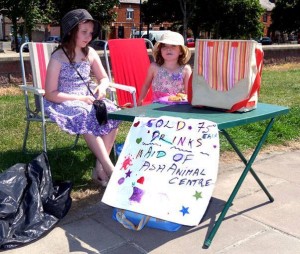 Massive thank you to Aoife and Maebh who recently ran a drinks stall on the hottest day of the year and raised over €70 for ASH. We're so lucky to have you supporting us and it was lovely meeting you on Sunday and of course the lovely Leo (ex ASH dog) ! Thanks so much guys !
Thanks so much to Fionnuala Dunne and her friends who organised yet another superb Knocknaboly Charity Sale with books, a vintage barn and delicious home made quality food and produce.  The weather was glorious on the day and Fionnuala raised an overwhelming €2,000 for ASH and the animals! Wowzers!!! That's simply outstanding!  Helena and Remi managed to get away for a couple of hours to enjoy the event, be treated to some of the delish spoils on offer and relax in the wonderful surroundings in really great company.  Everyone in ASH …Helena, Remi and all the volunteers are so grateful to Fionnuala and everyone involved in helping make this event happen!   If the animals in ASH could speak we know they'd say a huge thank you too (reckon if they could … they'd probably have been angling for an invite too mind you!)
A huge thank you to Valerie (below left) who baked and decorated a gorgeous Valentines cake for a raffle in aid of ASH.  Seen here with Louise the lucky winner.  We'd also like to say a big thank you to all the staff in St James hospital who bought a ticket! Thank you for helping us help our animals!! Brilliant.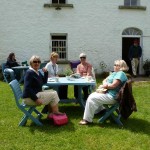 A massive THANK YOU to everyone who attended the recent book sale in aid of ASH in West Wicklow.  It was lovely to meet so many new people and to mingle in such a great fun atmosphere.  Helena, who managed to escape for a few hours thoroughly enjoyed herself.   The food was amazing and everyone who came along seemed to really enjoy themselves.  We know an awful lot of work took place behind the scenes, cooking, baking and lots of other preparations in order to make this event happen.  We're not sure how we can ever thank Fionnuala for all her hard work and total dedication to making this day happen!  A huge thank you has to go to every single one of Fionnuala's amazing friends who were so good to help her out and bake like mad and help on the day.  We were completely stunned to hear that a whopping €3,200 was raised.  That really is beyond fantastic!!   All monies raised will directly go towards caring for our animals and helping us continue to find the best new homes for those that can be rehomed.  Fionnuala, all of us in ASH are so very grateful for all your help and support.  We can't say enough but hope that a huge THANK YOU from our two, three and four legged friends will be something.
A BIG HUGE thanks to all the pupils and staff at St Mary's National School Bagenalstown, Carlow.  The pupils have been absolutely fantastic bringing in newspaper and shredded paper every week for our ASH animals.  It's amazing and so very comforting to see such support from young children not just for our animals but for animal welfare generally.  It means so much to us and it's because of the efforts like yours (and your parents of course) that we've managed to keep on top of our newspaper supplies this year.   Thank you guys for supporting our animals.  Your help contributes directly to making our young animals days better and brighter.  Your support gives us the drive to continue doing everything we can to help and care for the less fortunate animals in our care and community.  We really appreciate it! Brilliant!
The big Bake
It's absolutely amazing what can be done when we work together to achieve something special …  well that's exactly what  Melanie Corcoran, Paige Fox, Lauren Redmond, and Searlaith ni Neill (pictured above) from Baltinglass National School did.  They read about our difficult financial position and decided to do something about it.  They asked everybody to come up with an idea, got some parents involved and asked their teachers to come on board … pretty soon the idea of a cake sale was born.
Sleeves were rolled up, baking commenced, cupcakes were decorated and today we received a cheque for €500 which is just amazing.  This will go such a long way towards helping us continue our care for our animals and we are very grateful but also extremely impressed with your efforts in organising this event for us.   Thanks girls!!
Mary McEvoy recently organised a table quiz in Smithfield which raised well over €700.00.  Brilliant!! We are thrilled, thank you to all who participated and most of all thank you Mary for organising it all!  In fact Mary is so happy with the result and also knows how much we need funding that she's now planning to run another quiz in Bray on 13th October (check out our events page).   Mary and ASH will really need some support from animal lovers in the Bray area for that one.   Thanks a million Mary!
Thanks to Laura Noonan who adopted our Tiny Tim (who is doing so well) organised a number of events in her area, so far this year 2 table quizzes and the Hootananny – Laura managed to raise more than €1,500.00 for the Ash animals.  Fantastic Laura – thank you so much for your support and thanks to everyone who took part in the events.   Big hugs to Tiny Tim from all of us here in ASH!
return to home page