Donate
Thank you for considering any donation towards ASH Animal Rescue and our animals welfare.  There are a few different ways to donate to us;
Credit/Laser Card payments (internet access required)
Cheque/postal order
Standing Orders (no internet access required)
Our Ideal Wish List
Credit/Laser Card payments (internet access required)

1. WorldPay
2. MyCharity.ie
Cheque or postal order
We are so grateful for cheques of any amount which can be made payable to ASH Animal Rescue and addressed to us here at
ASH Animal Rescue, Cornan, Kiltegan, Co.Wicklow, Ireland.
Standing Orders (no internet access required)
Regular donations provide us with some comfort and security knowing in advance what funds we have to work with each month.  It is a great relief to us when we receive donations via standing orders, no matter what size.    Regular payments can be made through our online payment on this page of our website but if you would prefer you can print and complete our STANDING ORDER FORM and post/take to your Bank.
A standing order is an agreement between yourself and your bank and can be updated or cancelled by contacting your branch.  ASH Animal Rescue don't need to be told if you wish to to vary the amount of or cancel a standing order at any stage.
It's also possible through most of the main banks to set up standing orders through their online and/or telephone banking systems.  If you wish to use online banking or telephone banking to set up a standing order you will need to know our bank details which are as follows:-
Bank: Bank of Ireland, Main Street, Baltinglass, Co. Wicklow, Ireland
Sorting Code: 90-65-07
Account Name: Animal Sanctuary Hubasha Ltd (trading as A.S.H. Animal Rescue)
Account Number:  43500806
IBAN:  IE68 BOFI 9065 0743 5008 06
Bank Identifier Code:  BOFIIE2D
Pay Pal
If you have a Pay Pal account you can send any donations or payments to us at our PP account – ashrescue@gmail.com
Our Ideal Wish List
We have found that often people like to donate random specific items and so we have put together Our Wish List of items which we need all the time.  All of these items will be put to immediate use and every single item on the list is invaluable to us.   We hope in due course we can provide more links to companies who are willing to offer discounts if donating to ASH which will make it easier and less expensive for you to donate.
Wedding Favours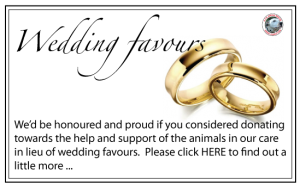 If you're considering a charitable donation in lieu of wedding favours we'd absolutely love to help you help us help our animals and at the same time do everything we can to make your guests feel like they too have made a difference to our animals lives.  We have a few suggestions to offer up (we're always totally open to your own thoughts & variations around these … it's YOUR big day after all!) … here's what we can offer …
Place cards
Table place cards (with space for you to write the guests name) including a message from ASH.
The front side can be kept for the name only with our message on the back of the folded card or if you'd prefer you can have space for the guests name and our message just underneath their name.  Its your call.  The cards will be sent flat packed and perforated for easy disassembly/folding – its definitely best to have them flat packed to allow you write the guests name with little effort.
OR
Tent cards
These are printed and scored on top quality white card (a5 landscape) and include a personalised message on the front of the card. Inside we've included a personalised thank you from everyone in ASH and a little introduction to ASH.  Also on the inside are a few stories about some of the animals in our care.  Depending on the number of tables we'll arrange to print a few variations of these cards with different animals stories on each.
OR
Table names
Rather than directing your guests to "table 3″ at your reception you could direct them to a particular animals table like "Willis' table".  It may not always be for everyone but has certainly proven quite a popular and fun choice in the past and the double sided card slots nicely into any table number holder at any venue.
We ask for a minimum donation of 150 euro for wedding favours (donations can be made online (see above) or otherwise).
You can get in touch with us directly via ashlm@eircom.net or through Caroline (one of our volunteers at cad7@mac.com) who's on hand to discuss and explore this part of your wedding with you and can send you a few samples via email.  We'll do everything we can to get it right for you both on your special big day!  
Best of luck on your big day from everyone in ASH – exciting times!
THANK YOU SO MUCH FOR ALL OF YOUR DONATIONS!