Stories from the paw
There's absolutely no "pick me up" that can match hearing stories about our re-homed animals.   Here are some stories we were delighted to have received which we'd like to share with our friends, volunteers, sponsors, supporters and visitors alike.
It great hearing that ex-pats are happy and safe and it gives us such drive, faith and hope to continue helping less fortunate yet such deserving animals.  We will never stop anyway.   Your stories not only make our day but also make our volunteers day knowing that animals they have known, looked after and fallen for have gone to a loving new home!   So big thanks to everyone (not just those who have shared) for considering rescue rather than other alternatives and for ultimately allowing one of our lovely animals into your home to become part of your lives.  They really needed you and you came!!
If you'd like to share any stories or photos of animals you've re-homed through ASH you can get in touch with us at ashrescue@gmail.com and head up your email "stories from the paw".
________________________________________________________________________________________
We just love such wonderful updates !
TEDDY
We love looking at pictures of our Teddy.
Teddy went home 2 months ago after spending 6 years waiting for a home in Ash ♥️🐾♥️
He is so loved by his forever family and he loves having a home 🐾♥️🐾
TEDDY AND FLUFFY
Teddy and Fluffy adopted from us recently are settling in well at their forever home 
They have the best care possible and are very much loved 
How sweet are these small chaps 
Thank you for giving them a chance to shine 
ROVER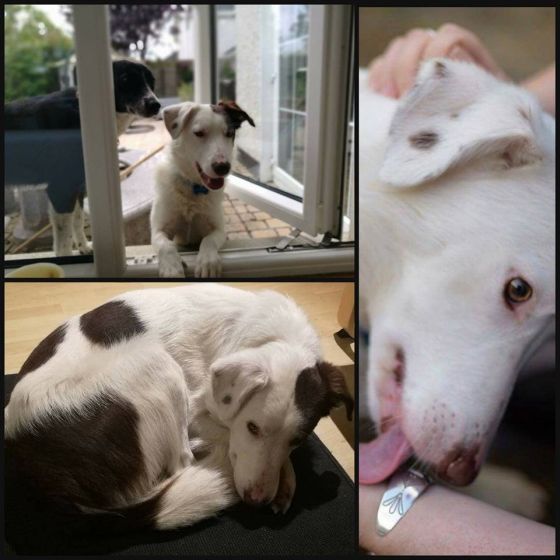 "Just a quick update about Frodo (Rover in Ash). He has settled in really well and we are quickly becoming best friends. He is getting on super with Poppy our family Ash dog. She has even taught him to swim. I am loving every day with him"
We looove your updates !Have a wonderful day Everyone
PRETTY & PINK
Pretty & Pink are settling in great at their forever home and are so much loved!
"Hi just some pics of pretty and pink not great shots but they see camera shy ☺️. They are doing great and slowly becoming used to us. We are delighted with them"
Wishing you long live in love and happiness Ladies.
KAISER
"Rufus (previously Kaiser) is enjoying his first Christmas in his new home. It's been a rocky first few months but he has definitely found his place in the family. Rehoming was never going to be easy but is now hugely rewarding when you see the new addition fast asleep warm and secure under the Christmas dinner table. Thanks to everyone in ASH for looking after Rufus so well."
Thank you for such great update. Loads of hugs to Rufus & his forever Family.
MEEKO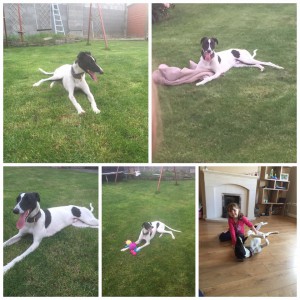 Some pictures of Meeko settling in to his new forever home he has truly won our hearts over in the last few days and has been as good as gold, he is full of beans and has brought a new energy to our home. Thanks to all involved in Ash
KODI
Kodi is a great little dog she gets on so well with my 2 big boys and the cats thanks ASH
EASY
As you can see Easy has claimed the couch for herself lol settling in great with her pals Brennen and Bailey.
TIFFANY
Here's Tiffany settling in well she's such a sweet girl we're delighted to have her!
DIEGO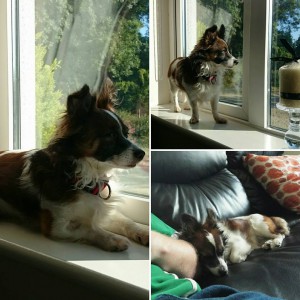 SISCO (AKA TOM)
'Hi to everybody at Ash, just sending you a pic of Sisco, formerly known as Tom. This day last year we were so lucky to bring Sisco home. We have had such a wonderful year, he is full of fun & energy & love. He still loves chasing balls, birds, cars and anything else that moves and recently discovered that he can swim, now we can't keep him away from the beach. So, on this note, thank you all so much for changing our lives'
WILBUR (AKA Sam)
Celebrated Wilbur's 3rd "Gotcha day " with the launch of his career as an Irish Therapy Dog. Proving Older Rescues have lots to offer…now aged 10+ (Formerly Sam).
EVA TAYLOR (AKA SKY)
Sky was with us in ASH quite a while and nobody ever offered her a home as she was quite a shy girl.  Well – all Sky's patience paid off and someone did come for her and we were delighted to have heard from them.  Sky's now called Eva and is clearly adored by her family.  We are forever grateful that her family gave her the chance she always needed.  Her family got in touch with us and sent us a few pics and said that Eva … "has been with us for just over 5weeks, at first she was shy and nervous, although she bonded with her two big brothers straight away. Eva has already come out of her shell, she is very friendly, loves lots of fuss, and loves her cat treats even more, and is very vocal when she wants some more! A great little girl to have around the place".   Just look at her now – fantastic!
BETHANY MAHER
"After losing our beloved pet labrador Coco less than a year ago we were hesitant to get another dog. We thought it unlikely to find another dog as placid and loving as Coco. However, the minute we saw Bethany on the Ash website we knew we would have to take a trip to see her and with a recommendation from our vet we were allowed to take her home that day. Since taking her home, Bethany (now named Holly because of the time of year we adopted her) has lifted the spirits of the household beyond recognition. She is settling in very well to her new home. Her and her closest friend Rori rabbit (seen in the picture) love a daily afternoon nap after a walk and simply won't relax without at least 10 minutes of petting. A big thank you to Ash rescue for bringing beautiful Holly into our lives! Love, the Maher family in Waterford."
BOSLEY O'BRIEN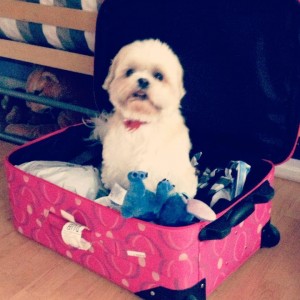 Here is a picture of Bosley the night before I went on holiday for a couple of days. He knew something was up when he saw the suitcase and quickly started pulling out all of my socks and putting them in his bed. He definitely wasn't going to let me forget to pack anything important!! He even brought one of his teddys in with him so he would have something to play with!  He is definitely the centre of attention in his new family. He is very spoilt and he knows he's the baby! He is incredibly obedient and well trained, all he ever wants is to be around people and play!
DAISY RYAN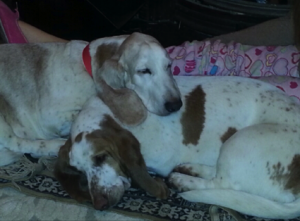 We adopted Daisy from ASH on New Years Day! She has settled in so well with her new friend Rosie.  It's like we have always had her …  They are very funny together, Rosie is like Daisy's granny!  but they get on great.  Shauna.  
ASH
To all at Ash Animal Rescue….. June bank holiday weekend 2012 we collected the new addition to our family … a puppy we called "Ash"…we can't thank you enough for our little puppy!   From the moment we arrived at ASH we could see the love and dedication everyone has for the love of all the animals they have in their care and beyond.   Ash has been a great addition to our family … and she's constantly attached to her big brother Marley!  I recommend ASH to everyone who is looking for a new family pet…big or small!  Leigh.  
JASPER
Hi everybody at Ash,
Well Jasper has lit up our lives. He has spent his first week with his new family and has settled in so well and has been to see his new vet for a check up and passed with flying colours.  He has also been micro chipped.  Jasper has attached some photos for you to see his new home and he thanks you all for the love and kindness you have shown him … Jasper has been very busy at puppy classes where he has learnt so so much and is socialising very well. He came first in all of the obedience training exercises out of a class of five puppies. He has put on over 1.5 kgs since he came and is loving his daily walks in the Phoenix Park … He has also lost quite a few puppy teeth … 
Thank you from all here for making us so happy and for all the great work you do. 
Noel, Maureen and Hannah
Thanks a million for getting in touch and keeping us posted about little Jasper.  He's such an adorable little boy.  We were so pleased hearing that you have taken him for training classes.  Then, to hear that Jasper is top of his class … well it just makes us smile from ear to ear … you must be so proud of him!  Well done for taking that extra step of taking him to classes after already taking him into your hearts and your home.  Thats quite special and it makes it all so worthwhile reading messages like yours.  We know for sure he's in the best place he could ever be.  Thank you for letting us share your message with all our volunteers and friends, many of whom will know little Jasper well.   It made us smile seeing him, we know it will make our friends and volunteers smile too and we hope Jasper continues to make you, Noel, Maureen and Hannah smile forever!
BRUNO
Hi guys,
Myself and my partner Mark adopted Bruno a boxer 3 years ago from Ash. I just thought I would send you a quick email with a photo of him. He is our best pal ever, he is so loving and is a very big part of our family. Bruno has two best buddies, Emma who is also a boxer who was adopted from Kildare animal foundation by my parents and bertie who is a cross collie owned by my sister. Bruno loves meeting up with them for walks and he also loves swimming. Thanks so much for giving him to us, he is the best – Pauline and Mark
It was so lovely to get your email today – how happy does Bruno look with his best pal Emma?  Love it.  Thank you for taking Bruno into your hearts and your home but for adopting Emma from Kildare Animal Foundation too and giving him one of his best mates (asides from yourselves of course!).  Great to hear from you, it really does make our day! 
GEORGE (Rainbow Warrior)
"I went onto your very impressive website last night and thought that it would be nice to let you see how George (Worry) was getting on.  As you can see he is as handsome as ever and a loved and adored dog. We have had him for four years this September and throughout this time he has just never put a foot wrong.  He is an amazing animal.  He has just had a minor operation to remove a benign histiocytoma and whilst under the anaesthetic they cleaned his teeth and clipped his nails so he had a little makeover!!  He is still a Pets As Therapy Dog and much loved by the elderly folk that he visits once a week . He was also recently a canine blood donor. I can see from your website that you continue to do wonderful work with your animals , just as you did with George.  Thank God that there are caring people like you .. With all good wishes" Pamela
What an amazing boy George is!!! We were thrilled you got in touch after all these years and shared how George is getting on!  It's just so heartwarming hearing how well he is getting on in life!   George was very much missed by staff and volunteers alike in ASH when you kindly took him into your hearts and your home – we all knew he'd be a great boy … but wow has he shone!  We couldn't be prouder of one of our ex-pats!! What a great fella.  We're sure George's story will help show people that Greyhounds and Lurchers really do make such amazing pets.  He is a credit to you Pamela!  Well done and thank you so much for giving George everything he ever hoped for and dreamt of during his time in ASH!! Please give him a huge hug from all of us here.
IZZY O'REILLY
Hi Remi & Helena, I just wanted to let you know that Izzy (formerly Pixie) is doing really well! We adopted Izzy over 2 years ago now and she has become the centre of our lives! My daughter reckons that Izzy gets her hair done more often than her! Keep up the good work
Doesn't Izzy look fab!! Thanks so much for getting in touch and letting us all know how she's getting on … she's a lucky beautiful little girl!!! Brilliant to see her again and looking so happy and healthy!
BOSCA and BROGAN (and Polly)
We were so touched when we heard from Bosca and Brogan's owner recently.  Fiona got in touch with us all the way from the Isle of Wight after after having adopted these "little brother and sister rascals" from ASH way back in August 2002.
It was so sad to hear that they had lost their beloved Bosca a couple of years ago who"was completely scatty and was nicknamed fish as he only had a 10 second memory especially when he knew it was something he shouldn't be doing … and he'd force himself on people to cuddle and love him … ".  Bosca was clearly loved beyond belief though as is Brogan so we asked Fiona, Bosca and Brogan's owner, to share her story with us with these little rescued boys ….
"I would love for you to tell our story so that others might share in the joy that Bosca and Brogan brought to me.  When I first saw Bosca and Brogan it was on your website and i was told about you by Friends of The animals here on the Isle of Wight. They didn't have names and were in a litter of i think it was 5.  I've kept those first photos from the ASH site … [above]
I actually named them after asking my friend from Tipperary for Irish names and my dogs have all had names starting with the letter B.   It wasn't until I took them on their first visit to the vet (an Irishman) who  asked me why I had named my dogs after a shoe box!!   Then he explained that the meanings of their names were loosely Brogan the shoe and Bosca the box …
… this was one of Bosca's last photos as it really captures his smile.  Brogan's pic was taken a few weeks ago in the garden showing her now beautiful silver face."
"Also included is a picture of my little Pug Polly who I rescued after hearing that she would have to have 1 eye removed after running into a rosebush and would have limited sight in her remaining eye.  She was just 5 weeks old.   I paid for her operation bought her home and she is now 2yrs old.  She is a love bug and proper Diva who goes to the parlour every few weeks for her posh baths and all the trimmings. Unlike Brogan who prefers the hose in the garden and her minty shampoo come rain shine or snow!   Polly actually loves wearing an outfit.   It started cos i got her some little t-shirts as she was so un-well when I brought her home to keep her warm. I kept them in a bag and even when she was better she would just go and get one for me every night and wouldn't sleep without wearing one.  She also now has some little frocks my friends have bought her and every so often she will just go an pull one out, bring it to me and wait until I dress her, her choice not mine! LOL! ….
Pass on my very best wishes to Helena & Remi and once again tell them I thank them with all my heart for bringing me such Love and Joy from Bosca & Brogan.
much love
Fiona Lawrence
Thanks so much for sharing Fiona, especially after all these years.  It's so touching knowing that you'd still think of us.  To be reminded and assured that way back in 2002 Bosca and Brogan found such a lovely home … well … it makes it all worthwhile for us.  We're so happy Polly was rescued by you too.  She's another lucky girl!  Thank you for sharing!
LUCY (aka Busy Lissie)

… it's been over a year since we adopted Lucy from Ash and my what a year it's been!  Originally, we set out to rescue a dog for Eoin's parents – they lived on a farm and loved sheep dogs, so we thought an older, male sheepdog would be the perfect companion for them on the farm. After arriving at Ash, we met Busy Lizzie – a 12 month old, female, Collie X and fell in love. She looked up at us with her big brown eyes and we couldn't go past her.   When we got her home, it took less than 5 minutes before we realised that Lucy would be our dog and not Eoin's parents! They say that dogs choose their owners, and in this case Lucy most definitely did!
At first, she was very timid – loud noises, sudden movements, even a cough would send her diving for cover. She was also not that fond of men – so we think that she may have been given some grief by male farmers in her travels … having volunteered at a dog refuge in Australia for some years, I focused my efforts on establishing a bond with her … by the end of the six weeks she was a star pupil… after we finished the course, something seemed to just click and she would sit, drop, come and stay with very little coercion. The transformation was amazing and this also boosted her confidence considerably.
Being on a farm, there are lots of other animals for Lucy to 'play' with. Cattle were not her best friend initially – but as long as they were behind the barriers, she was happy for them to be around. Now she races along the barriers to let her presence known and even when they are out in the yard – although she keeps her distance – she tries her best to help us herd them into their rightful place. Our geese also asserted their authority early on and Lucy knew they were not to be messed with.
Sheep – on the other hand – are Lucy's secret love! Her natural instincts are really evident and slowly I've begun teaching her how to move the sheep when we want to bring them in from the field.  Gradually, she is getting better and herding them, but we still need to keep a close eye on her as it takes all her concentration not to just run through the middle of them! …  It was the introduction to our cat, Brambles, that was the most challenging for Lucy … however, they seem to have worked out their differences and are often found snuggling together in Lucy's bed.
Lucy is now a much more relaxed little dog – she happily greets people (male or female), so long as they give her pats she is happy. She even snuggles up on the couch with the two of us and our cat. She enjoys trips with us in our jeep and sits in between us. We take her for hikes with us on the weekends and she's always ready to help us with the yard work in the morning and evenings. She's also my running companion and keeps me motivated to go for a run – and keep my pace up!
She's such a wonderful addition to our family and although it took a lot of effort at the start, we are rewarded with a gorgeous and loving companion.
Nerilie and Eoin
It's so brilliant to hear Lucy's story Nerilie and Eoin.  It's so assuring and comforting seeing how people really do go that extra mile helping their adopted dog become part of the family.  A lot of patience, time and love was put into Lucy and it clearly does go such a long way.  In the end the rewards are obvious and can be so much more than you'd hope for.  Thank you for sticking with it and for giving her such an obviously happy life where she feels so happy, safe, secure and loved.   Perfect!  Thanks so much for sharing!  Big hugs to Lucy from everyone in ASH.
DOBBIE
We just thought we would drop you a line to let you know how Dobbie is getting on in his new home.   We first met Dobbie at Ash Animal Rescue in November 2011. Dobbie had had a bit of a hard time in life, he lost an eye and the use of his tail in an incident when he was young, and by the time we met him in November he had been in Ash for over four months and was really hoping to find his forever family soon.
The minute he came into our home, Dobbie found his basket and that remains his favourite spot (although he has recently been getting very comfortable on the sofa snuggling up to his new family!) Dobbie was quiet at first, getting to know his new  surroundings, but in just over a month he has already come on so much, and we see so much more of his personality. He is a really loving soul, very eager to please and a joy to have around.
Dobbie loves his walks, and is currently working on a book of "The best parks and walks of County Dublin"! Current favourites are Bushy Park and Tymon Park where he can run for miles. We have also discovered that Dobbie loves the beach, he gets so excited at the first sniff of the sea air, and once he's let loose he runs straight into the sea where he can spend an hour chasing the waves (and letting them chase him!).
We would like to thank all at Ash for taking such good care of Dobbie during his time in need, but we are delighted to tell you how happy he is in his new home, and how happy we are that we found him.
Trish and Trevor
Well, there were no words to say when we read about Dobbie.  What a lovely story and what a lucky dog Dobbie is!! The poor fella has had a bit of a tough life  … until now that is!!  He looks so happy and content with you in his lovely new home.  We are absolutely thrilled to hear and see how well he's settled in.  Thanks a million for sharing his story …. we look forward to his book!!! 

JESS HARRISON

I was going through paperwork at home and uncovered a rehoming sheet belonging to our dog ' Jess'.  We lived in Crettyard in County Laois in 2006 when Jess went missing from home.  She was away for 2 weeks and despite posters and adverts on local radio we could not trace her.  However one morning, early July 2006 I was watching Ireland AM.  The Vet on the show had three dogs from your sanctuary who all required re-homing, all wearing bandana's around their necks, I recognised Jess and couldn't believe she was on national television… I was thrilled to bits to see her!!! Immediately contacted you and travelled up to pick her up.    I remember you not being too thrilled that Jess had no collar on or was not micro chipped.  Needless to say we arranged to have her chipped as soon as possible. We have never forgotten the fact that you saved Jess and we are very grateful to you for that.    I have reviewed your website and I wondered if our story may give others hope that their much loved lost pets can be found.  Jess is 10 years old now and she is a very happy dog whom we adore!
Its great to see Jess back with her family – she's clearly a very lucky and very happy dog!!!  Thanks so much for sharing this story with us, it's lovely to see Jess again and hopefully, as you say people will keep the faith that their pets can be found … but also take heed that dogs really do need their collars and to be chipped … to help this happen!  Big hugs to Jess

ALFIE REIDY
"Thank you for letting Alfie into our lives … actually thank you for letting alfie take over our lives –  we adopted him March 2010 and we've sent you a few snaps of how hes getting on"
Thank you so much for getting in touch with us and letting us know how Alfie's getting on … pretty great by the looks of it we think!!! Love it – thanks so much for sharing!!
RIP Walter McPartlin 25 May 2000 – 15 October 2011
Sadly not all our stories are happy ones and today we were very sad to have received news of one of our ASH dogs passing.  We, and Marie wanted to share Walters life with you because he deserves a special little place in all our memories.
Walter spent 7 very happy years with Marie and her family and friends.   Marie adopted Walter from ASH in 2004.   We are so thankful that Marie came along that day and showed faith in Walter.  We are grateful Marie gave Walter a loving home and everything he could ever ask for during their special time together.  Walter was a very lucky boy to be given that chance and he proved he was worth it and did all rescue dogs proud throughout his life by giving that love right back!
"His official name was classic treasure trove and what an apt name. He was my treasure for 7 years. He disobeyed me most times, he'd get into my bed with muddy paws and wouldn't leave. He would go to the road and ignore me calling him. He stole food and chased the cats but he also loved me to pieces and would look at me with his big brown eyes and wrap his paws tightly around my neck and hug me. He was a special boy and a tomboy … He brought me so much love and joy.  I remember that day we got him and he decided he was coming with us even though at first I wasn't sure as he was so thin and also headstrong.  But he was right we were a perfect match for each other.  I'm broken hearted you had to go my beloved boy…..miss you so much …"
RIP Walter McPartlin
"SURFIN' SAM"
We received a lovely email from Sam's new owner and we were delighted to hear that Sam seems to have settled in very well indeed.   He is now called Bracken and here are a few pics we received a) in Sandymount strand b) "supervising" gardening and c) "hedging his bets with human traffic in the house – being in the hallway during the day keeps him abreast of all the action"!
Sam has even been to Sligo surfing with his owner … well …. his owner did the surfing as Sam "hung out with fellow surfer friends and got lots of pets from sea salty hands".
Thanks so much for letting us know how Sam … oops Bracken … is getting on!  We are all thrilled for him here in ASH.
CLAUDE
Claude is here for a week today and he is settling in very well.  We are delighted with him, he is very friendly and has a great personality.   I think he is even getting used to US!  Thanks for everything.
LAYLA
"Hi all at Ash Animal Rescue, just thought I would share some photos of our lovely Layla, who we collected from you last August. You can see how she has grown from a quiet pup to the fun loving dog she is now.  She is such a bundle of energy who loves her walks in Castletown and playing fetch.  She has become such a major part of the family, we could not imagine life without her now.  We will see you on 29th May for the sponsored walk." Sandra.
DORA & DIEGO
Mandy and her family adopted Dora & Diego from ASH in May 2010.  Sadly, 2 months previous they had to make the heartbreaking decision to put to sleep their beloved Chewbacca (one of two Pug sisters the family had for 11 years).  They worried that their little pug Attilla (above centre) wouldn't get on with another dog … let alone 2 dogs!!! Dora & Diego!   Attilla seemed so lonely without her sister that the family decided to try to find her a mate and came up to visit us here in ASH.
They "… fell in love with Dora & Diego the minute we saw them.  Their sad eyes and cheeky nature won us (and Attilla) over.  Dora & Diego settled in straight away and took over the couch.  We are very lucky to have a huge enclosed garden which they love. They spend their day chasing each other and their balls around.  They are full of energy and mischief and are a joy to watch.  They are the most placid, loving, loyal and affectionate dogs I have ever met.  They love everyone and everything – especially socks and tea-towels they pull from the radiators!!
We can't believe that Attilla has taken so well to them, she is in charge still but loves nothing more than to cuddle up beside them on the couch.   We are so happy we decided to add Dora & Diego to our family as we could not have hoped for a better reward.   They make us laugh everyday and have given Attilla a new lease of life.   They love their walks, especially in the forest as this has the best 'sniffs' to offer.   They have made new friends on our walking route, many of whom now wait in anticipation for the Basetts to come along.  Some neighbours affectionately named them 'the double d's'.
We have the highest regard for ASH and all there and I'm sure we will add to our family over the years from the many deserving dogs at ASH"
Mandy, thanks so much for sharing Dora & Diego's story with us and all our friends and supporters (thanks n' cuddles must also go to Attilla for accepting the pair of them into your family).  We are absolutely thrilled to know they are so obviously happy in their new home with your family.  Brilliant!
HOOVER SAYS HI
Our lovely little Hoovers new family got in touch to say " …just to let everyone at Ash know Hoover has settled in so so well. She is content, confident and great with my nieces and nephews. Her playful side is coming out more and more everyday!! This little lady is spoiled rotten already and refuses for people not to pay attention to her … Hoover made herself at home immediately and it feels like she's always been here!   Thank you for everything you do and how well you looked after Hoover before she came to us.  Lots of thanks from Ciara and Hoover."
Massive thanks Ciara to you for taking little Hoover under your wings and for sharing your story with us in ASH and with all our friends.  We so love to hear happy endings!  It really makes our day and gives us a great boost knowing that everything we do is so worthwhile!   Fabulous!
MAX in his new home
We recently rehomed Max (the terrier cross) from your shelter and just wanted to update you on his progress. He has settled very well and has adjusted to our families routine brilliantly. The children love him. He doesn't really love our cats yet but hopefully they can be friends soon! He has lots of energy and loves his walks. [Seen here doing his favourite thing … lounging on his rug after a long walk]. Thanks for everything and we wish you all the best in the future. Julie and Andrew (and Max!)
Thanks so much Julie, Andrew and of course Max – its brilliant to hear back from you – it makes our day and life better like we can't tell you!
EMAIL FROM CHARLIE (PREVIOUSLY KERWIN) … WHO'S CLEARLY LOVIN' LIFE WITH HIS NEW FAMILY
"I just thought I would send you a few recent photos of Kerwin as he is now, a lot bigger and stronger than he was when we got him.
We have seen a great improvement in him, with very little training.  When we got him he didn't know how to play with toys or socialise properly with dogs when he was on the lead but now he loves playing catch with the ball and wrestling with his tyre toy.  He is also very friendly with other dogs and knows when to leave them alone if they don't want to play.
He can now sit, lie down and roll over, stay and give his paw and he loves his cuddles. He has taken a liking to the water and often paddles in the puddles at the Curragh and has even been swimming in the sea with [us].
He and Bella are best of friends and always play together. It is remarkable how gentle Charlie is with her. They also sleep together at night even though they have separate beds.
We just want to say thank you very much again for letting us take him as he is such a lovely kind dog who is now a massive part of the family.  I hope the photos show how happy and healthy he is and how much we love him."
MASTERS STORY

return to home page