"Run for Rescue" Flora Women's Mini Marathon
So far this year we have rehomed a total of 68 dogs.  For every dog that went home a new dog was immediately waiting to take it's place.  The situation for animals in this country is unbelievably awful at the moment. Without us so many dogs including the lovely Timmy in the picture probably wouldn't be alive today. We really need your help now more than ever though!  If you are thinking of entering this event please please consider taking part in support of and on behalf of ASH and help us continue to rehome, care, love, support and rehabilitate the animals in our care and community.  (If you haven't thought about it yet … might you??)
This years Flora Women's Mini Marathon takes place at 2pm on Bank Holiday Monday 2nd June 2014.    
Entry is now open and we'd be absolutely thrilled if our friends and supporters would get behind us and run/walk in aid of ASH and all the animals in our care!  Postal entry forms can be found each week in the Herald and you can also register online via their website :
www.florawomensminimarathon.ie.
This year we are delighted and so grateful to have been sponsored by Petmania.  Petmania have been brilliant, as always, and have made it easier than ever to sign up to run for ASH.  You can just click the link HERE , fill in your details and then select ASH as your chosen charity.   So please consider doing the "Run for Rescue" for ASH and help us help so many animals who are relying on us to look out for them and show them all the love, care and support they deserve.   Thanks so much!
Street collection this Saturday 9th November … can you help?
We are looking for an few extra pairs of hands this Saturday at our street collection in Grafton Street, Dublin.  We have a permit for a street collection and could really do with a few volunteers to help us out.  If you think you can spare even a couple of hours please pop Gwen (one of our dedicated volunteers) an email on gwenhemp@hotmail.com.  If you can't volunteer but find yourself in the area please come over and say hi to our volunteers – standing on the street collecting all day is hard work – even a little hi helps a lot and goes a long way!  Thanks guys!    
5k Remembrance Run
We would be so thrilled if some of our friends and supporters would consider running the 5k Remembrance run which takes place on the 10th of November in the Phoenix Park.
The event welcomes walkers, joggers and runners and has a special remembrance theme- remembrance of friends or family passed. Maybe you would consider running it in memory of a family member that was an animal lover or even running in memory of a passed pet.
Full details can be found on their website
http://remembrancerun.ie/wp/.
As always thank you for your support.
Our very own Leona is taking a huge leap from keeping her feet on the ground through hard graft and tough work involved when caring for so many animals every single day.  She's now taken the mad n' crazy decision to jump from a plane and go that extra mile to help support all the animals she knows so very well and helps every single day.  We'd really appreciate any support you can give Leona on her big jump which is next Saturday 26th October 2013!  Leona has set up a MyCharity page and you can access that below or by clicking on the pic above.  All the animals in ASH are barking, miaowing, tweeting, neighing and flapping for you on Saturday and all the humans in ASH will be thinking of you on the day too – big time!!!  Thanks so much Leona – This is well and truly above and beyond (literally!!) GO LEONA!!!
Autumn Fayre 29th September 2013
This September the 29th we will host an Autumn Fayre in the grounds of the very beautiful and picturesque Duckett's Grove in Carlow. It promises to be an amazing day with events to suit everyone (from 1.30-7.30).   CLICK HERE FOR OUR FULL FLYER.  The first main event is a blessing of the animals and a tree of remembrance and this will be followed by a fun filled day including a dog show (sponsored by Petmania) with Linda Martin as celebrity judge.   There is a wonderful woodland walk for all the family.  Wonderpaws will be doing dog agility training.  There are will be Arts, food and craft stalls for everyone to sample.  There's a childrens village to keep the little ones entertained … there are live bands and the list of events just goes on and one.  It promises to a be a great day out for everyone.  Entrance is just €5 per car.   Please come along to support us on the day.
Sunday 29th September – Ducketts Grove Family Day Out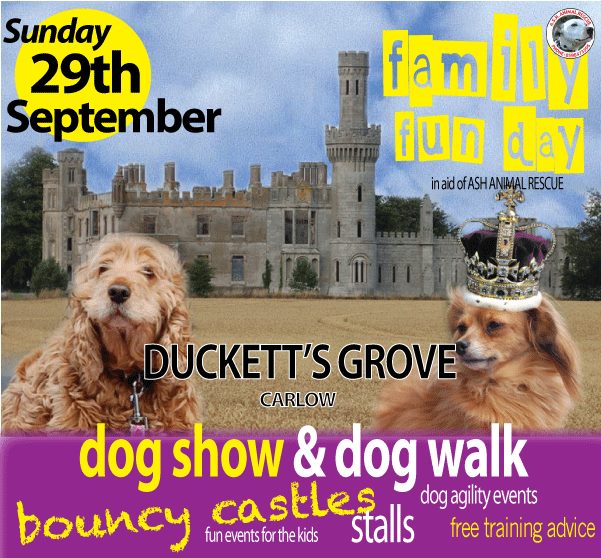 On Sunday 29th September for one day only ASH are going on tour!  We are planning an amazing family fun day ! The setting is the stunning Duckett's Grove castle in Carlow, a simply fascinating place with beautiful walled gardens and amazing woodlands.   This event event could be every dog lovers dream – there is a lovely woodland walk planned, a fun dog show, agility fun, free training advice and tips and so much more.   Other events include bouncy castles and fun stuff for the kids and the best bit is that every single cent raised is  going towards the animals in our care.   Admission is only €5 per car!
We really hope our friends will come along and support us on the day – and even before then help spread the word to friends and family.  More details of the event will be published very soon – in the meantime please put this date in your diaries.   It promises to be an amazing day out for all and we look forward to seeing you and your four legged friends on the day.
This years Dog Walk …
We have booked Brockagh Resource Centre in Laragh again this year for our sponsored dog walk on Sunday 26th May 2013.  We are kicking off at 2.00pm.  (If you have booked an ASH dog you might come about 15 minutes earlier).  
We'd really love to see a lot of support from people out there for this event. Its the one day of the year that some of our permanent residents and ASH dogs can come along and share in the fun and feel part of every day life.   
Of course we are so looking forward to meeting all our friends and their very own doggies.  This day is about the dogs – homed, rescued and ex-rescue!  It's a great day out for all to socialise and mix and also a bit of fun for all of the family too.
You can print a sponsorship form HERE and directions are below.
Afterwards we will be having a raffle, tea n coffee and chats and thanks to Blacklion vets we have arranged discounted microchipping vouchers which even includes a donation towards ASH!  Thanks so much Blacklion Vets we really appreciate it – what an amazing gesture towards our friends animals safety and welfare.  Fair play!
WE CANT WAIT TO MEET YOU ALL!
Flora Women's Mini Marathon
This years Flora Women's Mini Marathon takes place on Monday 3rd June 2013.  We are really hoping that a few very brave and fit women out there might consider taking on this challenge and help raise some vital funds to support our animals.
It's only early days just yet but training could well be underway already.  You can now enter online HERE or you can use the entry forms that appear in the Evening Herald every Wednesday and Saturday as and from 20th February 2013.
If anyone would like to sign up with us to run for ASH Animal Rescue we would absolutely love to hear from you.   Please send us your contact details via email to "ashlm@eircom.net" (headed up "RUN FOR RESCUE") as soon as you've registered for the race (and of course made the big decision to run for our animals).  We'll then arrange to send you out a sponsorship pack which will include a sponsorship form and a few other ASH goodies.  Sponsorship form can be downloaded HERE in the meantime.
Please consider crossing that line and help us help them at the very same time.  Thanks a million ladies!
We'll be posting a few updates here and on our Facebook page over the coming months.
Fun Dog Show … thank you for your support!
Thank you SO MUCH to everyone who came out to support the Dog Show in aid of ASH Animal Rescue today in Laragh. We couldn't have hoped for a better day.  It was fabulous to see so many people come out and support the event and our animals. We were quite overwhelmed to say the least!  We couldn't possibly remember all the little Kenny's, Herbies, Axel's, Millies, Dexters and Manny's, all of whom were so well behaved throughout the event.  We've included a few pics of the day which we hope you might enjoy.   A big thanks to Michelle and her helpers (who still somehow managed to put up two gazebos despite a few blustery patches while setting up) and also to everyone in Brockagh Resource Centre.  We hope everyone who came had a bit of craic and their dogs enjoyed mixing with the so many others both big and small.  Your attendance and support managed to raise a staggering €1,000 for our animals!!!  AMAZING!  We simply can't tell you how much that will mean to all many other dogs and animals back in ASH.  Our volunteers and Remi really enjoyed meeting you and all of your lovely four legged friends.  Every single one of the dogs (and owners) are winners in our minds!   Thanks again everyone!