Sponsor an Animal
Sadly a number of animals taken in by ASH will never be re-homed to a loving family. This may be due to the fact that they may be too old and /or have settled with us. Some have been abused in the past and find it hard to trust humans again. Of course some animals such as our pigs and the foxes are not re-homable for obvious reasons. All of these animals have their own story to tell and we've tried our best to do this on their behalf. We invite you to read their stories below.
Since we re-launched our sponsorship program many of our sponsors visited their sponsored animal. We were thrilled to see sponsors take the time to visit and in the cases of the dogs, take them for a cherished walk. It's not always about the walk though (some of the dogs are only up for a short stroll) … often it's just the time out and the company of people which is important and so loved by these dogs.  Unfortunately not all of our dogs are up for a walk given their personal circumstances but it really does give ASH and our volunteers a boost knowing that people out there are thinking of them too.  Our "long term" residents incur costs including food, shelter, veterinary bills etc and sponsoring an animal helps us defray these costs.
Sponsorship costs €50 for one year and for this you will receive a sponsorship pack containing:-
a certificate,
a bookmark,
a keyring or fridge magnet and
a photo of your chosen animal
(from November to the end of December you will also receive one of our Christmas cards).
Sponsorship for our cats costs €30 euro each for the year.  All of our pigs (Domino, Lavender, Sausage, Bacon and Mikey) can be sponsored as a group for €50 euro.  All of our foxes Hazel, Diesel, Foxy and Freddie can also be sponsored as a group for €50 euro.
Please see below for stories on our animals for sponsorship and email our volunteer Caroline at cad7@mac.com with your details (or for further information) if you'd like to sponsor any of our lovely animals.  You can of course get in touch with us directly if you would prefer.
You can donate online and advise Caroline that this has taken place and where (and to who) she should address the sponsorship pack.
In many cases our dogs can be visited and many of the dogs for sponsorship can be walked too.  Without question most (but not all) of the dogs would absolutely love a visit and to spend a little time in the company of their very own sponsor.   They are great listeners, great company and all they want is a little "me" time in the company of a friend, a few hugs, perhaps a little treat or two.  They don't look for much to be honest.  It's very obvious though (and hugely pleasing) seeing that so many dogs do remember their sponsors when they return.

Max
Max has been in ASH for over 5 years now and he's such a lovely fella.  He is very much loved by everyone in ASH.  Max is an ex-farm dog where he was just simply no longer wanted or needed!!  Poor awl Max has a deformity on his skull which looks as though he may have been hit with something … we're just not sure and to be quite honest we don't want to know.  All we need to know and make sure of now is that Max is safe here in ASH with all his friends and ASH family who all love him to bits.  Despite everything Max is a such a great natured boy, he loves nothing more than going out for a walk with our volunteers and he gets great fun out of playing ball with a few of his fave volunteer friends.  He's great with other dogs and he just lets the cats rule by simply ignoring them.  He may be a little shy at first with new people and he never really says much (as such) but it's pretty obvious to anyone who meets him how much he loves to be out and about with people and enjoys getting a little escape from all the rescue goings on.  He'd love a visit from his sponsor and to spend a little time with you on a walk if you are ever in the area.   Max has always been overlooked on the homing front sadly but since he got his first of a few sponsors in December 2012 we now know that he will never be overlooked again because he now has a few special people out there who are thinking of him too (and in some cases visiting him).  He's a great boy and a great dog to come and visit if his sponsor was  ever were in the area.
Tyson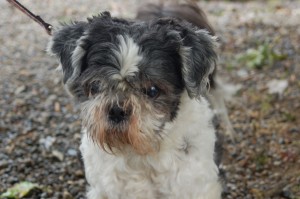 Little Tyson is a Shih-tzu and is one of our older dogs.  He is about 11 years old now and is old age is starting to creep in.  Tyson was handed in to a vet to be put down many years ago as he was allegedly so disobedient.  It's hard to imagine he deserved such a punishment!   Now, whilst we definitely won't deny there is a certain degree of mini disobedience going on with our little Tyson, he's just so lovely in other ways that we don't mind at all.  Tyson enjoys having a go at the big dogs which is amusing especially when Toby the cat passes by and then there's not a peep out of him!  Mind you lately little Tyson has slowed down in this regard and just enjoys to keep a back seat on the proceedings in the living room.  The poor boy is becoming quite blind now and gets a little special treatment here and there especially when it comes to eating … he gets hand fed his dinner!!  Tyson stands on the arm of the sofa as Remi feeds him morsel by morsel.  Ah bless … he's an old boy now and with so many dogs in the living room who might sneak a bite of his dinner … this has become a necessary job.  Tyson snoozes quite a lot despite everything that might be going on around him.  He does still enjoy a like a little walk if his sponsor fancied coming up to take him and a pal out?  If you have any questions please contact Caroline, our sponsorship volunteer at cad7@mac.com.
Shakespeare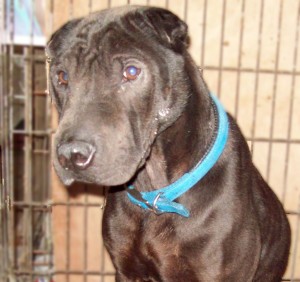 Shakespeare is a Shar-Pei and is about 5 years old now.   The reason he is up for sponsorship is that we believe it may well be that he will be with us for the rest of his life because he isn't a dog for a novice and would require someone who has dealt with boisterous, slightly dominant male dogs.  This sort of owner is extremely hard to come by and sadly few are willing or able to take on such demands.  Shakespeare is always alert and ready for action yet at the same time we've spotted snoozing for hours on end when nothing much is going on around him.  Unfortunately, given that he can be boisterous and can be a  bit of a handful at times, to be on the safe side we'd ask that his sponsor didn't come to visit.  We would however absolutely love to know that someone out there thinks enough of Shakespeare to sponsor him.  That means a lot to all of us.  If you have any questions please contact Caroline, our sponsorship volunteer at cad7@mac.com.
Pugley
What a lovely little character our Pugs is.  He runs around behind Sadie, Springbok, Steve, Dante and Tyson trying to keep up with all the goings on in our living room.  His little short legs mean an awful lot of movement but not so much pace!  He's the cutest little fellow and loves peoples company and a little stroll.  He has been in ASH for a couple of years now and loves being such an important part of the antics in the house.  We're hoping he can find a few friends and sponsors who might want to come and visit him especially.   He'd love to go for a little walk, a chat and some "me" time with his sponsor.  If you'd like to sponsor Pugley please see below how to go about this.  If you have any questions please contact Caroline, our sponsorship volunteer at cad7@mac.com.
Springbok
Springbok almost never made it to ASH.  Many years ago after having been attacked by a pack of dogs Springbok managed to jump into a car while a lady was putting in her shopping.  On seeing how hurt he was, instead of taking him out of the car she brought him to the vets and, well, then he came to us.   He lives in the living room with his best pals.   Although whenever he gets a chance he can be found on the couch cuddled up to Remi … ahh bless (they are best mates!)  Like all the other dogs for sponsorship Springbok has really become a part of ASH and it would be hard to imagine him elsewhere.  He would absolutely love a visit and a walk from his sponsor if you were ever in the area, even though he's slowing down a little bit these days.  If he brings over his [massive] teddy (still in his mouth mind you) when you're in the living room thats usually a good sign that he wants to be friends!
Steve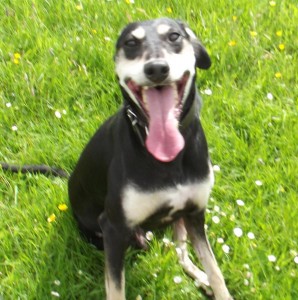 In August 2009 poor Steve was knocked down by a car in Carlow. Remi took him to BrayVets for an operation at the time where Steve had to undergo surgery on two fractured legs.  After his surgery we took him back to care for him and prepare for his rehabilitation.   We desperately tried to find his owner and even took him with us to make an appeal on Ireland AM.   No-one came forward.
Not long after we put out a special appeal to help us help Steve we were thrilled to hear that he was lucky enough to be offered a home.   Unfortunately, during his time in his new home more issues arose with his leg and Steves new owners couldn't afford to pay his ongoing vet fees.  So Steve came back to us and we were not only faced with the costs of caring for Steve but our worst fears came true when recently the vet told us we faced the decision to amputate his leg!!  This is not something we entered into lightly but Steve was in too much pain and last week we agreed to amputate.
We hope Steve will somehow forgive us.  It broke our heart into a thousand little pieces to be the ones to have done this to Steve but we know and have been advised and assured that it was the only course of action for Steve to make him feel better.   Steve has since become very much part of our ASH family and lives in the living room with his mates.    He loves to go for a walk, loves a cuddle and loves  little company and "me" time so if his sponsor was ever in the area please do come and visit him.  He'd love that!
Lydia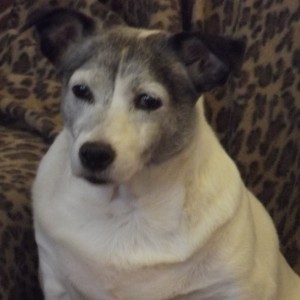 Lydia came to ASH as a stray about 7-8 years ago.  She was a mature dog then and we were lucky enough to find a lovely home for her then with an elderly lady.  Sadly for her owner and for Lydia her owner was taken into care in July 2011.  Lydia came back to us then.  She is probably at least 12 years old at this stage.  Her chances of another home were limited so we introduced her to our gang in the living room and she fits in just perfectly now.   Lydia will love a small walk but it would be short and sweet as she's getting on in years now and not one for going long distance!! Bless her.
Willis
Willis is over 6 years old now and he came to us when he was 4 months old.   Sadly he was a Christmas present gone wrong!  Willis' story highlights 2 things, firstly that a dog is for life and not just for Christmas and secondly that anyone looking at getting a puppy or young dog should consider long and hard before taking it on but especially they should know what size the dog will grow into in adult life. Willis would absolutely love to get a visit from his sponsor and we're sure he'd love nothing more than tagging along with you on a nice walk.  If you chose to sponsor Willis and would like to come for a visit whatever you do don't forget some treats!  A wee word of warning, given that he is a seriously big dribbler – we advise wearing appropriate wet gear!!  He's a real beauty, loves a good hug sitting on your feet when you are talking and a walk really makes his day!!!  Please come and visit him.  He's a big boy for sure but he's a very gentle and loving fella who loves everyone he meets.
Sadie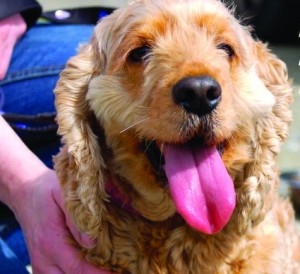 Sadie is a lovely little Cocker Spaniel.  She initially came to us over 5 years ago.  Her owner had bought her as a companion to her elderly Cocker Spaniel.   Sadly her dog didn't warm to Sadie at all and just wanted her gone.  We took Sadie to TV3 with us once and pretty soon we found her a new home.  Sadly this didn't work again out for little Sadie because of an allergy.   So we tried again and it didn't work out because unfortunately Sadie snapped at her owner.  We really prayed she might be fine in the right home but this proved not to be the case when snapped again in her final home.   We love Sadie very very much in ASH and she is really very happy here.  She's the sweetest dog you can imagine most of the time but just not always.  She's great friends with Springbok and Tyson.
Sadie could be walked by her sponsor if they wanted to come up to visit.  She absolutely loves walk time, the company and everything to do with a wee escape and adventure in the countryside.  She's a real charmer up here.  We love her to bits.
Cheeky
Cheeky has had such a very sad and traumatic past.   She came to us in 2005 from a house [of horrors] with Shakey and Shy.   Their elderly owner was very abusive to their 24 (yes 24) dogs and the people around him.   When he died only 4 dogs came out of the house alive. They were completely traumatised and scarred for life as you can imagine.
Unfortunately Cheeky isn't really up for a visit from her sponsor either. She can't be taken for a walk and very rarely goes outside but has at least started to mix with the dogs in the living room.  Poor Cheeky has had such a horrendous past that it would be so lovely to know that someone out there would like to be her sponsor and would be thinking of her too.  Cheeky came to us with Shakey and Shy who we think are related and after years of living in ASH Shakey was rehomed and turned his life around in the home of one of our volunteers.  Shy who also came from that awful house has since passed in January 2013 and has broken a few hearts (we think she was Shakeys mum).  Cheeky makes her own progress inch by inch day by day and every single act that might seem small to anyone else makes us feel proud of our Cheeky.
Sherman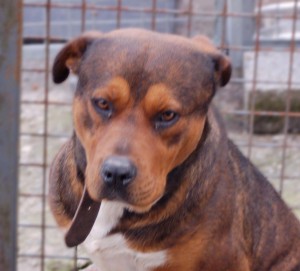 A few years ago we were alerted to a very thin large dog going around Baltinglass, people were worried about him but he was unapproachable.  Remi went out a few times and finally managed to bring him home, he seemed so thin and traumatised that we decided to put him in a large crate in the office where it was nice and warm and we hoped the company would do him good.  He seemed okay and happy enough to be there but the next morning we realized that this clearly wasn't the case.  We found his crate destroyed, the computer and everything else that was on the desk was pushed aside or on the floor.  The worst nightmare though was that he had actually jumped through the window, taking the glass, the wood and everything else out as well.  We immediately informed all our neighbours and after 3 days we got the call we had been waiting for and he had been found.  Remi once more set out and brought him home.  This time we put him in an outside run and he has come on so much ever since.  He now looks beautiful and healthy.  When staff go in he's happy to get his cuddles and he loves a walk on the lead.  However whenever a new person looks at him he is shivering with fear still.  This has been improving but very slowly but we take each day at a time!   If you would like to show your support for Sherman please consider being his sponsor and get in touch.  He is not up for visits by his sponsor unfortunately but it would be nice to know that someone else out there is thinking of him too.
JAN
Jan is a lovely little donkey who has lived with us since October 1990 and was just 1 year old when he came to us.
Jan is pretty full of mischief.  His favorite hobby is "Bum Biting".  Yes, our poor farrier has been on the receiving end of Jan's little "joke" many times over the years.  Nonetheless Jan is a very sociable little donkey.
He absolutely loves his carrots, apples and daily 2 slices of white bread.  Jan would love a visit from his sponsor (especially a sponsor in possession of a carrot!).  You would need to let us know if you are coming first though so we can introduce you.  We wouldn't recommend hopping over the fence during any visits though because it's really only Jan who sees the funny side of his little "joke"!
DOMINO AND LAVENDER

Domino and Lavender are Gloucester Old Spots  and came to us from Sligo.  Our poor old pig Miss Betty had sadly passed away and we were looking to give another pig a chance as we always have dog nuts etc. left over and we hate to see any food wasted.   So it was Lavender we planned to get but we got her son Domino into the bargain.  Although we were a bit weary about taking on two pigs we have never looked back, they are just adorable. Domino and Lavender are Gloucester Old Spots.
TOBY
Toby is one of our oldest residents … he's about 20 years of age and doesn't look a day over 10!!!   Aside from the fact that he's lost all his teeth, bar a few at the very back (a touchy subject) he's in great shape.   Yes, having no teeth certainly doesn't curb his appetite – he loves his food.   There's no doubt that Toby is the King of this Castle in ASH … no doubt at all!  He loves to strut his stuff past Tyson who has eventually learned that Toby is indeed King.  He loves to hop up on visitors looking for a little cuddle.  He's a lovely cat – we think he's the greatest anyway!
JULIUS
Julius has been here for about 8 years now.   He likes to live and play outside – he's allowed in as well of course but he isn't that comfortable with that.  In summer or whenever the window is open he occasionally enters and takes  chicken or other treats going a begging.  It usually ends up with a little panic attack and all our stuff flying everywhere while he is making his less controlled escape.  Julius is a character and is a favourite of all volunteers and staff and us.    He can usually be found close to the kitchen window, watching everything that goes on and he gives loads of kisses through the glass.  Julius can be sponsored for 30 euro for the year so if you'd like to sponsor him for yourself or as a present for someone special please get in touch with Caroline at cad7@mac.com and she will arrange to send you a sponsorship pack and can answer any questions you might have about sponsorship.
Sponsorship as a gift
Many people have given the gift of sponsorship for all sorts of occasions. If you let us know you'd like to give sponsorship as a gift (and the occasion) we will include a gift card with these sponsorship packs. We will also need to know the name of the person to go on the certificate and the address where we should send the sponsorship pack (if different to your own) and of course the animal you would like to sponsor.
How to pay for sponsorship
There are 2 ways you can pay for sponsorship:-
1. Email/write to us including your details and send a cheque or postal order made payable to
ASH Animal Rescue to us at ASH Animal Rescue Cornan Kiltegan Co. Wicklow.
OR
2. You could use our online donation facility which allows payment via credit card/laser card. However if you choose this method of payment, you will also need to contact us (and if by email copy our volunteer Caroline at cad7@mac.com) to confirm payment has been made and provide us with your details.  If you have any questions relating to sponsorship please contact  Caroline (cad7@mac.com), who will be happy to answer any queries you might have.